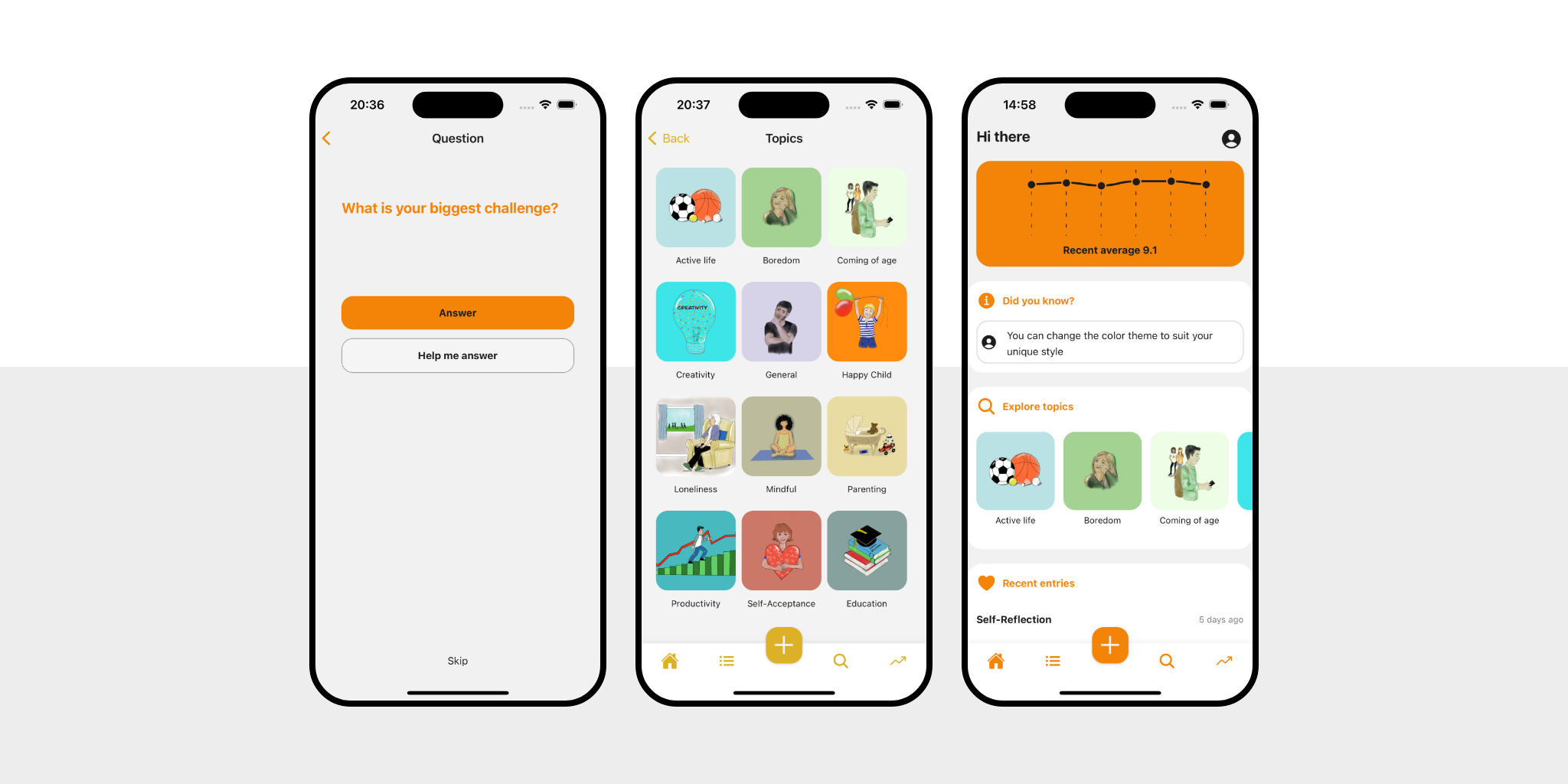 Luci 2.0: The Self-Reflection app
We are proud to introduce the first major update of Luci: 2.0. Designed to be the Self-Reflection app to guide you through your mental awareness journey. We want to help you reflect on your own life and improve your mental health through exercises and journaling. Let's go through some of the changes
Mood check-in, journal or Self-Reflection New in 2.0 is the ability to add different types of experiences using Luci. You can now add a quick mood-check in to the app. A great swift way to record your current emotion. Or if you want to entire self-reflection experience you can still do that as well. New in this major version is the ability to change what kind of interaction Luci provides you. Not interested in the journaling part, or the AI generated responses? You can turn that off in settings.
New mental exercises You can now practice an unguided meditation using a timer and beautiful music from Pawelbas. Or you can meditate in complete silence. It's all up to you. Also new and unique for Luci is an exercise called Breathe Sync. Breathe Sync invites you to record your breathing rhythm to spot signs of hyperventilation.
Home "Base" Central part of the new design is the Home Screen or "home base" to keep it in meditation terms. The Home Screen will respond to you and your mental journey. It's the place to get a quick glance of your happiness trends, pending assignments and more. For instance it will give you quick access to the guides tour when you are just starting out.
iOS first-class citizen We have optimized the app to play first-class citizen on iOS (iPhone & iPad). Using Apple Health you can send mindfulness minutes to the Health app. This is ideal to register all your mindfulness time together in a single interface. Or use iCloud to keep the progress on iPhone and iPad in sync. This lets you continue on your phone wherever you are or write longer posts on iPad at the comfort of your own home. Like quotes? You can now show quotes on the Home Screen or Lock Screen. Tapping a quote allows you to quickly add new content to Luci.
New pricing options We have also added a subscription option to lower the barrier of entry. This way you can shortly unlock all the content when you need it for a very affordable price. Longer subscriptions or lifetime unlock remain available as well. We have added a separate blog post here. Customers who have already purchased the full version will of course get all of the the current and future features at no additional charge.
Version 2.0 is just the beginning. We can't wait to continue our mental journey together. Happy reflecting!